Three ways to turn your wedding reception into something special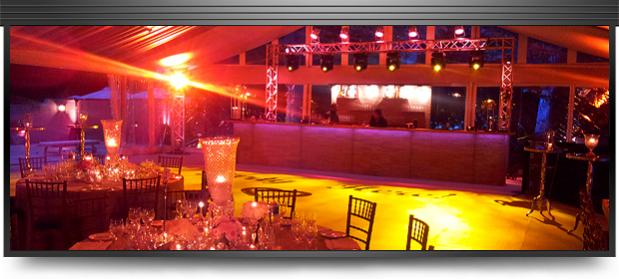 Planning a wedding reception is hard work and time consuming, especially if you want the event to stand out and be memorable for the wedding party as well as the guests.  This article will discuss practical ways to spruce up your wedding using audio visual equipment.
Sound:
A portable sound system is an essential component of any wedding reception. The sound system provides the facility to connect microphones (preferably cordless microphones for speeches and formalities), DJ equipment (cd players, laptops, iPods etc. for background or dance music) and video camera equipment (a sound feed from the audio mixer allows the videographer to record high quality sound of the speeches). Personally selecting the music to be played adds a nice personal touch to the event. Another popular option instead of or in addition to a DJ is a live band.
Lighting:
Lighting is one of the most sought after services that many couples want to have as this simple technique can make everything look more appealing. It can turn ordinary venues into something memorable and is an important visual element for any event. Lights are fixed at key locations in the room and are projected onto the wall or ceiling, creating vibrant columns of coloured light. They can also be used to draw attention to specific areas or pieces like the wedding cake for example. Gobo lights can be used to project customized messages onto flat surfaces like walls and ceilings while intelligent moving lights creates a dynamic look and feel and is a great way to set a party mood on the dance floor.
Visuals:
A great way to make your guests feel part of the journey of the bride and groom is through the use of visuals. This can be achieved by displaying photos and or videos of special moments in the lives of the wedding party. The most popular way to do this is by using multiple flat screens, strategically placed to ensure that everybody can see the images. Another option is the use of projection screens or a combination of flat and projection screens, provided that there is enough space and low ambient light levels  in the venue to accommodate it.
Please feel free to contact us for more information on audio visual services at weddings.