Avolites Titan One lighting control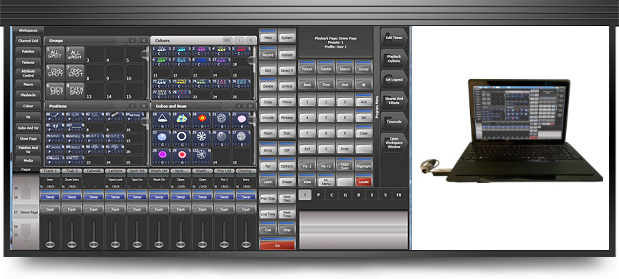 Titan One is the cost effective solution for every lighting application. V6 is packed with new features including:
PIXEL MAPPER...
Enhanced to include - Scribbler, Text Elements, Import Images, Grid Fit Animation and more.
PATCHING INTERFACE VIEWER...
New and easy way to patch, edit and manage your fixtures. Quick to exchange and readdress large numbers of fixtures
AUTOLEGEND...
Palettes are now intelligently labelled for you – colours, text and CITP thumbnail images make building your show quicker than ever before.
MOVE IN DARK AND TRACKING...
Easily create complex cue lists with the help of extensive move in dark and tracking options. See exactly what each step contains using the shape and pixel map views. Edit values directly from cue view, and set fade times over the whole cue, attribute groups or individual channels.
MASTERS...
Assignable Rate and BPM Masters let you sync chases, shapes and pixel maps for a perfectly timed show. Preset, Playback, Swop, Flash and Grand Masters are also assignable – letting you set up your desk the way you want.
LOADING SCREEN...
See the status of your show and check the progress when it is updating to a new version of software.
MORE...
Simple Personality Update
Enhanced Cue List Tracking functions
Enhanced theatre Syntax functions