JBL VRX 918SP Sub Woofer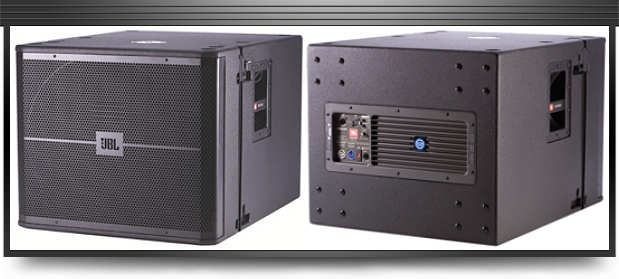 Features :    
Built-in JBL Drivepack® DPC-2 amplifier module designed by Crown provides 1500 Watts of peak Power. DSP based resident input module provides system optimization, EQ and crossover functionality.
 
18 inch, 2268FF dual voice coil, neodymium magnet Differential Drive® woofer for high-power capacity and light weight.
 
Integral rigging hardware for simple connection of enclosures and optional array frame.
 
20 mm threaded pole socket for solid, secure satellite speaker mounting.
 
Large port area for reduced distortion.
Specifications : 
Power Rating    :    1500 Watts Peak
LF: Dual-Bridged Technology™, Class D 
Frequency Range    :    31 Hz – 220 Hz 
Dimensions
(H x W x D)    :    508 mm x 597 mm x 749 mm
(20.0 in x 23.5 in x 29.5 in) 
Frequency Response    :    34 Hz – 220 Hz 
Maximum Peak Output    :    126 dB SPL at 1m 
Bandpass Nominal Impedance    :    LF: 2 x 2 ohms 
LF Driver    :    1 x JBL 2268FF 457 mm (18 in) dual voice coil
Differential Drive® woofer with neodymium-magnet 
Audio Input Connector    :    XLR with loop through 
User Controls    :    Input Attenuator (0-16 dB)
Selectable 80 Hz or 120 Hz Low Pass
80 Hz High-Pass enable/disable for XLR loop thru. 
Signal Processing    :    DSP based, resident in Input Module 
System Management    :    DSP based limiters for mechanical and thermal protection 
AC Power Operating Range    :    90-132 VAC or 216-264 VAC, 50/60Hz 
AC Line Voltage    :    User selectable: 120V/240V (-15%, +10%) 
AC Input Connector    :    Neutrik PowerCon (NAC 3MPA) 
AC Loop Through Connector    :    Neutrik PowerCon (NAC 3MPB) 
AC Current Requirements    :    6A per system at 120V, 3A per system at 240V 
Enclosure    :    18 mm birch plywood. 
Suspension / Mounting    :    Optional VRX-AF line-array frame kit or 10 mm forged eyebolts 
Finish    :    Black DuraFlex™ finish 
Grille    :    Powder coated, black, 16-gauge perforated steel with
acoustically transparent foam 
Net Weight    :    38.5 kg (85 lb)