Roland XS-1HD HDMI Switcher/Scaler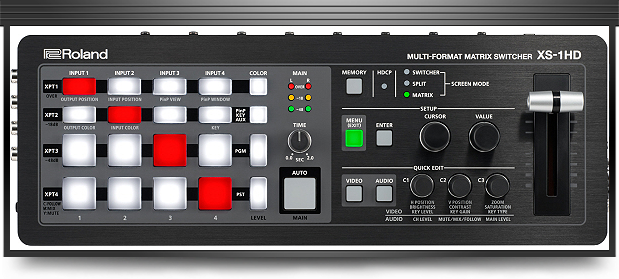 All contained in a compact format, the XS-1HD includes a switcher, scalers, and audio mixer in a single unit. Additionally, high-quality image processing allows output to large high-resolution screens, without any degradation of quality.
Three operation modes
Matrix Mode allow switching of 4 sources to any of 4 outputs
Switcher Mode allows PinP, key-compositing, and dissolve transitions
Split Mode allows PinP of up to three inset windows
High-Quality 4:4:4 10-Bit Processing
The XS-1HD uses RGB/YPbPr 4:4:4 10-bit signal processing, ensuring that the quality of the video input sources is maintained to the output display especially with data sources. Video that is switched to a large LED display or projector is output with crisp clarity.
Digital Audio Mixer
This allows the HDMI audio and analog stereo input to be mixed. There's also an "audio follow" function that switches the audio in synchronization with video transitions.
Internal Scalers
Each video input is equipped with a scaler that can be set individually. The incoming video input resolution will automatically be matched to the output resolution. The output video can be zoomed to a maximum of 1000.0% and down to 10.0% in detailed 0.1% steps, allowing the video to be properly scaled for the display
Test Pattern Generator
You can output a test pattern that is convenient for adjusting the video output to a projector or large LED display. A selection of various patterns is provided, including color bars, cross-hatch, and ramp. Also included is an animation function that diagonally scrolls the displayed pattern.
EDID Emulator
You can prevent connection problems between video devices by specifying the desired format of EDID. This is convenient in situations such as a banquet or hall, where the computer connected to the XS-1HD is changed throughout the event.
Memories
The current setting of the switcher can be saved into one of sixteen memories. Settings can be saved for specific scenes or configurations, and be easily recalled when needed.