Roland V-8HD HDMI Switcher/Scaler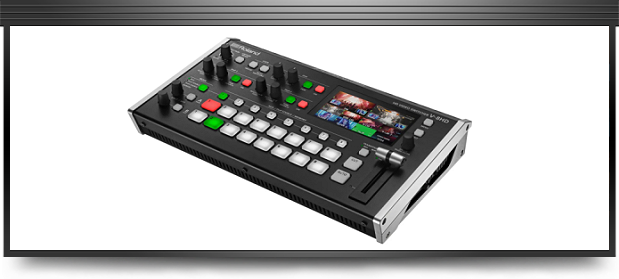 Powerful and Portable 8-channel Video Switcher
The V-8HD from Roland is an 8-channel video switcher that comes with everything you need to switch, mix, compose, and record high-quality video. It's made for the 21st century too, featuring an all-HDMI workflow that lets you connect to a wide range of different sources. You get eight HDMI inputs that interface with modern devices. Two of the inputs have built-in scalers to handle tablets, gaming consoles, and old-school devices. You can add 5 composition layers and save your favorite graphics configurations as presets for easy use. And best of all, the all-in-one design eliminates the possibility of computer-related hassles like setup issues or software crashes. Other features include Atomos recording, remote control capability, stereo RCA input, computer-assisted switching, and much more. If you're looking for a video switcher that can do it all, the Roland V-8HD is up to the task.
All-HDMI workflow lets you connect more of today's devices
Today, HDMI is everywhere. Since most modern cameras and devices use HDMI, Roland decided to follow suit. The V-8HD uses only HDMI inputs that enable it to connect to a greater number of devices. You get 8 HDMI inputs that you can use with cameras of all kinds. And here at Sweetwater, we appreciate that inputs 7 and 8 have scalers that accommodate sources that aren't as easy to connect via HDMI — such as smartphones, tablets, etc.
Built-in multi-viewer display lets you monitor everything at once
The V-8HD has a 4.3" color display for monitoring your video inputs. You can monitor all eight video inputs plus the menu overlay in one place. This mighty display even shows your PGM and PVW feeds. If you have a spare TV lying around, you can connect it to the V-8HD to view your feed in greater detail and to free up the onboard display to make menu changes. You can also set the multi-viewer to show camcorder status and embedded audio levels.
Easily set up layers, effects, and keys
Special effects have the power to capture the attention of your audience. As such, the designers at Roland made sure to give the V-8HD enough processing power to handle all the effects you want to use. You have the freedom to use up to 5 layers with two picture-in-picture layers, and downstream keys. The picture in picture feature is especially useful if you're producing eSports content with multiple player feeds. Once you get your FX set up and programmed to the right input, you can trigger them with the touch of a button. Once you create a few favorite effects sequences, you can save them as presets for easy recall.
Onboard 18-channel digital mixer
The V-8HD doesn't just mix video. It gives you the ability to mix audio at the same time, thanks to the onboard 18-channel digital mixer. It automatically blends the audio signal from each HDMI port and the Stereo RCA input to create a basic mix you can tweak at your leisure. Choose from preset effects to tailor your sound to whatever environment you're working in. The effects library even includes helpful features like wind noise reduction and de-essing. For greater flexibility, you can even connect your iPad to your V-8HD. Finally, you can use the remote control app to fine-tune your mix on the fly.
Perfect for any lifestyle or environment
When you're setting up for a gig or livestream, the last thing you'll be worrying about is the AV table. Luckily for you, The V-8HD is lightweight and compact enough to make it the ideal companion. That's because its all-in-one design eliminates the need for bulky external gear. Just plug your cables in, and get going! If you regularly travel, the V-8HD is absolutely ideal, because it fits into a carry-on bag and weighs just 4 lbs! Throw it into your bag with cables and your favorite headphones, and you'll be ready to take on anything. Whether you're controlling the production from a large desk or a card table that's seen better days, the Roland V-8HD will perform brilliantly.