Panasonic PT-EX620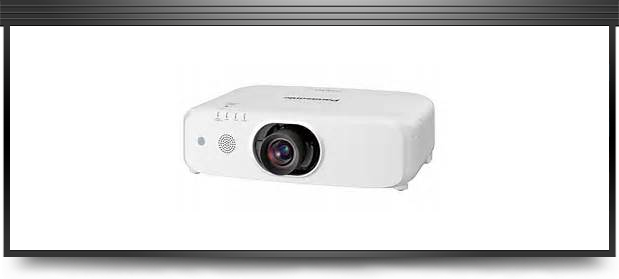 Natural Pictures In Bright Rooms
More than 30 years of hard-won experience stands behind every Panasonic projector they make. Innovative technology guarantees uncommonly bright and vivid pictures even in well-lit rooms.
Low Total Cost Of Ownership
From dust-resistant construction to long-life UHM lamp, the PT-EX620U Series is engineered for trouble-free operation with very low maintenance, saving you time and money.
Compact And Stylish Projectors deliver Up to 6,200lm Brightness
With up to 6,200 lm of brightness, the PT-EX620U Series produces brilliant images even in high levels of artificial light. Text is clear and legible while graphics and video are reproduced with natural vibrancy.
Dynamic Contrast of 2,000:1 With Iris
High dynamic contrast of 2,000:1 is enabled by an iris mechanism, so that whites are brighter and blacks deeper with minimal loss of detail in dark images. The result is crisp and comfortable viewing.,
High XGA Resolution for Lush Detail
With up to XGA (1,024 x 768) resolution, the PT-EX620U Series is capable of displaying Full HD video. The extra detail and depth engages viewers for a more compelling presentation.
Daylight View Basic Ensures Vivid Images In Bright Rooms
Panasonic's original Daylight View Basic uses a built-in sensor to measure ambient light and calibrates image-projection to suit, optimizing brightness and halftone color and sharpening details for easy-to-see pictures in well-lit environments.
DICOM Simulation Mode For Medical Presentations
This imaging mode is similar to the DICOM Part 14 medical imaging standard. It lends a film-like quality to X-ray images, making the PT-EX620U Series suitable for training presentations related to medicine.
Color Adjustment For Multi-Screen Projection
This function corrects subtle variations in the color reproduction range of individual units set up for multi-screen projection, particularly in side-by-side configuration.
Extended Lamp Replacement Cycle
PT-EX620U Series projectors feature a lamp replacement cycle of up to 5,000 hours. This helps to lower operating costs, reduce labor and minimize wastage by extending the operation period between lamp maintenance.
Dust-Resistant Cabinet And Extra-Long-Life Eco Filter
If dust gets inside the projector's optical unit, brightness suffers. The PT-EX620U Series protects against dust intrusion with a one-way airflow design and improved sealing for the lens block, air intake duct and Eco Filter.This electrostatic Micro Cut Filter captures the tiniest dust particles and requires no maintenance for 15,000 hours.It also can be washed and reused. These dust-resistant projectors are designed to maintain brightness for longer in high-traffic environments while reducing servicing costs.
Eco Management Slashes Power Consumption
A variety of Eco Management functions are accessible via a button on the remote controller. These include brightness optimization for ambient lighting conditions and lamp power reduction when no input signal is detected.
Easy Access Lamp And Filter
To reduce hassle, the filter can be replaced via the side and the lamp from the top of the projector. There's no need to remove the unit from its ceiling mount for periodic maintenance.
Quiet Operation in ECO Mode
The quiet design reduces operating noise to just 29 dB, with the sound of the cooling fan hardly noticeable. This helps to keep the audience focused on your presentation.
Powered Lens Shift,Zoom And Focus Via Remote Control
The wide adjustment range of the powered horizontal/vertical lens-shift function assures convenience and versatility during installation. Zoom and focus are also easily adjusted via remote control.

Project Onto Curved Surface
Horizontal, Vertical and Corner Keystone Correction adjusts the image shape for clear visibility when projecting off-axis or from an unusual angle. Curved Screen Correction allows for the projection of natural, distortion-free images onto curved or cylindrical surfaces.
Range Of Optional Lenses
Choose from a selection of optional zoom lenses for your system. The additional lenses make it easier to adapt the projector to the installation site. Lenses attach and detach with one-touch ease.
Mechanical Lens Shutter
Mechanical lens shutter prevents light leakage when the projector is on standby or temporarily not in use, such as periods during meetings.