Lumi Interactive Voting System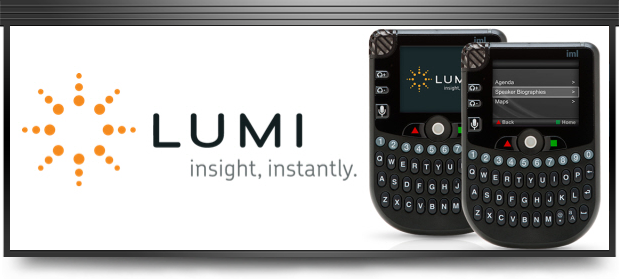 The Lumi Connector brings you a never-before seen level of interactive audience engagement. This all-in-one, handheld device enables participants to fully interact and contribute to the content and outcome of your meeting.
Device Features:
Enhanced Voting Solutions
Ask the audience questions in a wide variety of formats, including multiple choice, value, rating, prioritisation, text response, XY matrix and resolution voting. Receive greater audience participation and honesty through anonymity or track individuals' responses via smartcards - perfect for auditing, training and certification.
The audience can text in questions or comments using the full text QWERTY keyboard, which can be displayed on a monitor in front of you (or the audience), allowing you to capture thoughts, respond to questions and steer the discussion in the direction of audience interests. The QWERTY keypad is intuitive and very easy to use, even for first time users of the Lumi Connector.
The Lumi Connector puts a high quality microphone in the hands of each attendee, letting people immediately share their comments or ask questions directly from their seats. It also features a queuing system, where audience members wait in a virtual queue for their turn to speak.
The Lumi microphones are incredibly simple to use. The person wishing to speak simply activates the microphone with the click of a button and talks into the Lumi Connector just like a handheld microphone.
Portable microphones can be activated instantly to facilitate live audio feedback from your audience, enhancing your Q&A sessions and debates and avoiding the hassle of a roving microphone.
Use the Lumi Connector's multiple audio channels to record important meeting conversations or as a tool to assist the hearing impaired. It can also be used to play different streams of audio, allowing users to select which one to listen to.
Lumi's smartcards provide a simple and efficient way to identify and track individual's responses. 100% accurate and secure, smartcards are personal ID cards that automatically link audience members to their keypad activity.
Individuals simply insert their smartcard into the Lumi Connector and the system will automatically identify their responses.
The Lumi Connector has a full colour screen. Its brightness and precision produce a consistent high quality image. Use the full colour screen to enhance branding and sponsorship, like handheld digital signage. It can also display agendas, speaker biographies and other relevant information.
Simultaneous Interpretation
As a receiver for simultaneous interpretation, users can select their language and hear the audio spoken by an interpreter. This provides a simultaneous translation through the conference equipment, ensuring that everyone feels included and encouraging greater interaction and participation.