Lengkeng LKV724P HDMI Splitter/Extender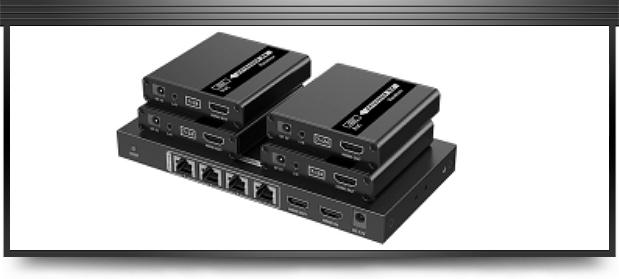 This product is a 1 input 4 outputs splitter extender kit, It distributes 1 HDMI input signal to 4 identical signal outputs, extends these signals up to 70 meters. support 4K30Hz resolution, bi-directional IR passthrough, RS-232 control and 3.5mm L/R audio output functions.
1. Zero-latency transmission.
2. Support up to 4K@30Hz resolution, downward compatible.
4. Distribute 1 HDMI source to 4 HDMI displays.
5. Support CAT6/6A/7 network cable, which can transmit 1080p signal 
up to 70 meters.
6. Support power over network cable, only the transmitter needs to 
be powered.
7. The transmitter support HDMI loop out.
8. Support bi-directional IR passthrough(20~60KHz).
9. Support RS-232 command control.
10. Surge Protection, Lightning Protection, ESD Protection