JBL EON612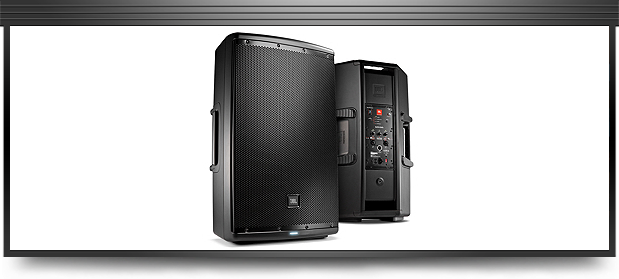 The JBL EON612 self-powered PA speaker gives you extraordinary quality in a highly-flexible, easy-to-use, portable package. Making use of JBL's advanced waveguide technology and the latest developments in cabinet materials, acoustic science, and transducer design, the EON612 delivers a studio-monitor-quality sound, providing you with remarkable performance for nearly any live application. The EON612's onboard EQ parameters can even be controlled via Bluetooth for convenient command of this innovative self-powered PA speaker.
Purposeful product design delivers quality sound in a portable package
Using modern manufacturing techniques, JBL has optimized the EON612's enclosure for ideal acoustic resonance, resulting in tremendous volume and phenomenal performance in a convenient, portable package. The EON612's intelligently positioned handles ensure that you'll have no problem carrying and moving it around, while integrated hardware mounts allow you to fly the EON612 when required. Additionally, indexed feet molded into the EON612's enclosures allow for convenient storage and transport, as well as secure stacking for stage monitor and traditional stand up configurations.
JBL waveguide technology provides consistent, uniform coverage
By examining the radiation characteristics of the EON612's high and low frequency drivers at different points, JBL engineers have achieved a breakthrough approach to waveguide design. The EON612 self-powered PA speaker utilizes individual waveguides for both components that control the sound radiation at the high frequencies, the crossover point, and at the low frequencies, providing you with unprecedented sound quality. The EON612's innovative design also ensures consistent frequency response throughout its entire coverage area, delivering smooth, transparent sound to everyone in your audience.
Bluetooth integration for convenient control of volume and EQ parameters
In order to provide you with sophisticated yet convenient control over your sound, JBL engineers have developed an iOS and Android-supported Bluetooth interface for controlling your volume and EQ parameters. During a soundcheck, you can walk around your venue and whip out your smartphone or tablet to fix any sonic issues that you may encounter. Nice!
JBL EON612 Self-powered PA Speaker Features:
1,000W amplifier delivers exceptional headroom with power to spare
JBL waveguide technology provides smooth, transparent sound to everyone in your audience
Onboard EQ presets allow setting the system for various applications
Bluetooth integration for convenient control of volume and EQ parameters
XLR loop-thru for routing signal to additional EON600 speakers
The JBL EON612 self-powered PA speaker delivers extraordinary quality in a great-sounding, portable package!