Microphones
Cord microphones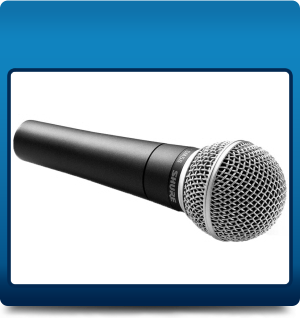 Ideal for speech from a stationary position like a podium, can also be used on a table stand for panel discussions.
Gooseneck microphones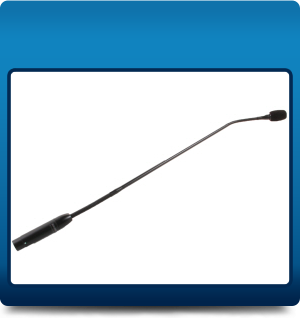 Discreet and elegant. Great for speech from a podiums and tables, ideal in environments where photography is likely to feature.
Wireless lapel microphones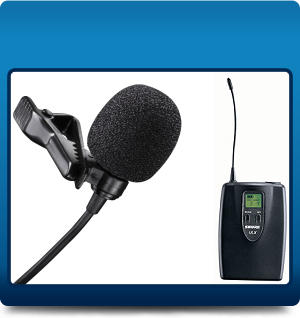 The battery pack clips onto the users belt or fits into their pocket while the microphone clips onto their clothing. It allows presenters to engage their audience without being bound to a podium and leaves both hands free.
Wireless headset microphones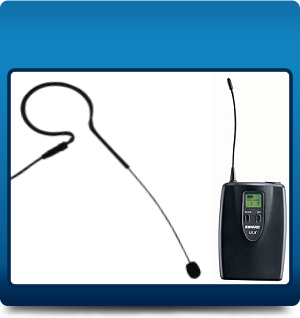 More discreet than a lapel microphone. It also has a battery pack that clips onto the users belt or fits into their pocket. The microphone can be shaped to fit comfortably around the ear. Ideal for active demonstrations and softly spoken presenters.
Wireless hand held microphones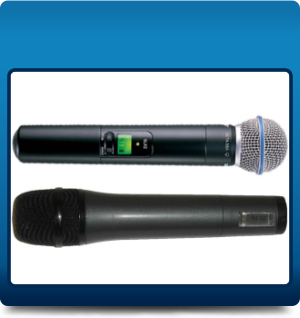 Useful for passing around in the audience for questions and a firm favourite for singers and entertainers.
Instrument microphones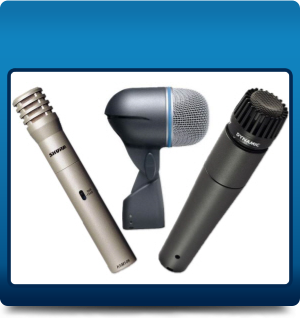 Specialized microphones for musical instruments like drum kits, pianos, guitars etc.
Multi microphone management systems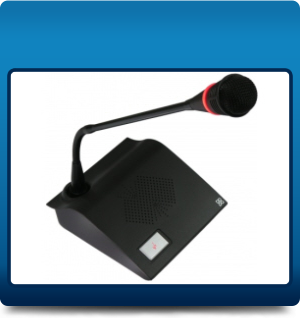 Allows users to easily interact with one another and a great tool to get the discussion flowing. Ideal for panel discussions, hollow square and classroom-style seating arrangements. Easily connects to sound reinforcement systems or simultaneous interpretation equipment. Reliable, simple to use, "push to talk" technology can be delegate controlled or technician activated. Easily integrates to recording facilities for complete record gathering.
Services you probably need