Distribution and Switch Gear
Roland XS-1HD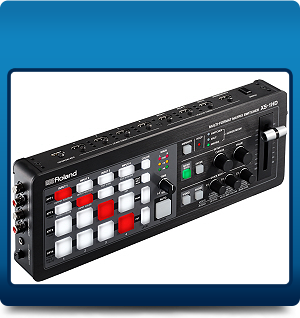 A table-top switcher that's equipped with four HDMI inputs and outputs. Scaler on all inputs. Three operation modes. Built-in eight-channel digital audio mixer handles audio from four HDMI signals and stereo analog input. Still images can be loaded from a USB flash drive.
Kramer VP-730
This device is a true HD switcher that converts video signals to RGBHV at selectable output pixel rates. The scaler provides fade thru black switching between inputs. This unit has 4 VGA, 2 universal video and 2 HDMI inputs.
Kramer VP-400
High performance distribution amplifiers for computer signals with resolutions ranging from VGA through UXGA. They take one input and distribute the signal to four identical outputs.
Kramer TP-114
The TP−114 is a high−performance distribution amplifier for computer graphics video or HDTV signals. It converts a computer graphics video or HDTV signal on a 15−pin HD connector to four identical twisted pair signals.
Kramer TP-120-od
The TP−120−od is a twisted pair receiver for computer graphics video signals. When used in conjunction with the TP−114 twisted pair transmitter (or other compatible Kramer transmitter), it converts a twisted pair signal back into a computer graphics video signal.
Lengkeng LKV375-100 HDMI Extender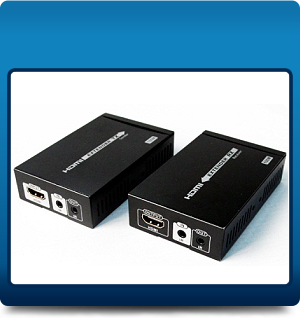 This HDBaseT single network cable extender transmits HDMI signal up to 100meters over cat6 fluently and clearly. It is lossless in signal and supports 3D, 24bits deep color, 4kx2k, CEC and HDCP.
Lengkeng LKV318 HDMI Splitter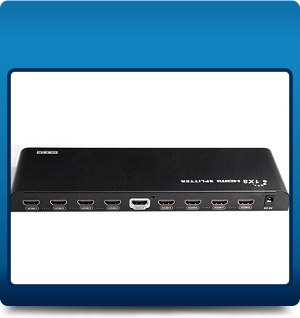 1×8 HDMI splitter distributes 1 HDMI source to 8 HDMI displays simultaneously. Apply for STB, DVD, Media Player, Laptop, D-VHS and other HD-Player devices. It's Compatible with HDMI 3D and 4K×2K. 
Services you probably need